My Videos
I've started to put together some basic videos to show the process of creating basic applications. They're all related so you should play them sequentially and use full screen. The project is the recreation of one I originally wrote in Clarion.
Video 1
Video 2
Video 3
Video 4
Video 5
Video 6

Express Versions
Welcome to WinDev Australia
What is required to be a Software Developer?
To the uninitiated one might think that Software Development requires an intimate knowledge of Computers, Devices, Operating Systems, Programming Languages, and the willingness and ability to type thousands of lines of code. The reality is very different. Yes there are those who developed an interest in computers and such at a very early age and went on to study Computer Science or similar at some tertiary institution, but the truth of the matter is that most of us developed an interest well after these opportunities had passed us by. Does this mean therefore we now don't possess the skill to develop applications? Absolutely not. At the end of the day, to develop applications, you need the ability to think logically, be a problem solver, and have the tools to utilise those skills.
The advantage of WINDEV, WEBDEV, and WINDEV Mobile, is that you actually don't have to know any code whatsoever to produce an application that works. Using some basic logic you will determine what type of data needs to be included in your application. You will then define that in what WINDEV calls the "Analysis" (other languages might refer to it as a Data Dictionary), which is effectively a description of your database. Finally you would then use that information to generate a working application. This is referred to as Rapid Application Development (RAD). Whilst the resultant application is fully functioning, you will more than likely want to alter its appearance and enhance its features. This you can do via a combination of settings and added code. The code is often in the form of functions with parameters. This helps to simplify the code you have to write and reduce the overall number of lines of code. This may sound daunting but there is a very logical approach to all this and you get a great head start via the tutorials and examples. THere are also courses and frameworks available for purchase to help mitigate the learning curve.
To better understand what has been stated above, I'll draw your attention to a series of short videos in the adjacent panel. If the videos sufficiently whet your appetite for more, then I suggest you download the completely free Express version (the links also in the adjacent panel) and go through the associated tutorial.
The WinDev product suite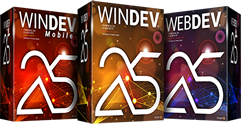 Whilst the term WinDev is used somewhat generically when referring to the product suite, it actually consists of 3 separate products. Namely WINDEV®, WEBDEV®, and WINDEV Mobile®, but are usually purchased as a combined suite. Simply put, the WINDEV IDE facilitates desktop development, the WEBDEV IDE facilitates web application, and the WINDEV Mobile IDE facilitates mobile development. If you purchase WINDEV and any of the other products, you can actually set it up to work on the projects of your other products from within the WINDEV IDE (You must own those other products)
Cross-Platform Applications
Compatibility - With WINDEV, WEBDEV and WINDEV Mobile, the same source code runs on different platforms.
Product pricing
Whilst the current promotion is in effect, all new developers will be granted the "Competitive Exchange" price. This allows you significant discounts over the normal retail price, with the discounts increasing when you purchase a combination of products.
The products can be purchased separately or in any combination of the 3, though it's far more cost effective to purchase the full suite of 3. At current prices, a suite of any 2 products has a saving of about 18% over purchasing the 2 individually, and the the suite of 3 has a saving of about 33% over purchasing the 3 individually.
The "Competitive Exchange" pricing for these packages delivers a saving of some 47%, 55%, or 62% from the normal retail price depending on which package you purchase. You can check out the prices here.