Testimonials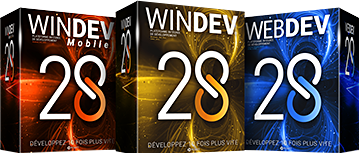 The following are testimonials from some local users of one or more of the suite of products.
Al Sterritt
JCA Software

I think Windev is the best development language available for business orientated applications. Development is fast, the applications are rock solid in the field and applications are free to distribute - no licence fees.
Our main application is a job cost accounting, ERP product started in 2000 and now with nearly a million lines of code that are easily maintained by a single developer. Windev enables me to be competitive with the major software products.
I am happy to chat to anyone and show them how simple Windev is.
Jay Jarratt
Windev has the widest range of native visual objects that I have seen in any IDE as well as the most enthusiastic and helpful support in Australia (and NZ) that I have come across for any computer application over 40 years in the industry.
Kel Skinner
FMS Transport Software
I have been programming for many years and have been using Clarion. A lot of my software is still in Clarion and will be gradually moved to Windev as soon as time allows.
I did find Windev to have a bit of a steep learning curve, but I think that was more me than the software.
The more I use Windev the more amazed I am with the power and ease of doing things.
I have learnt that once I spec out what I need to do I look in the help find the function that will achieve what I want.
Working with XLS and XML plus consuming a web service is so easy once you understand what the help is saying.
I could rant on all day but the support I get from Geoff at Windev Australia is second to none.
Also, if there are any beginners that need a bit of guidance, I would be happy to assist.
Geoff would be happy to give out my Mobile number.
Adebayo Oladapo
TalkaSoft
TalkaSoft is a rapidly developing company founded over 13 years ago to develop applications that help to translate English to many African languages on Windows Operating (XP) platform using VB development language. During the completion of the application on Windows platform came the evolution of smart phones capable of processing many applications on the Windows platforms on the phone. In addition, because our application is a language translation application, portability is a real requirement.
To resolve these requirements, we did a market scan for a multiplatform apps development tool that does not require the user to understand Java or other apps development languages. Understanding of any programming language should be all that was required to use the tool and compile our apps on any world-class platforms such as Android and IOS etc.
After exhaustive testing of many apps development tool, we settled for PC SOFT WINDEV Mobile, a simple tool that supports our development team with pre-programmed objects that eliminates the need for ground up coding and even provides free technical support to ensure that we succeed in building and uploading our apps to Android and IOS.
WINDEV Mobile also supports our development solutions with advanced and future proof pre-packaged objects and samples that makes it very easy to develop very advanced apps on time.
We are indeed very satisfied to have chosen PC SOFT WINDEV platforms.